The seasons have changed, Autumn is officially here and it's time to cozy up with a mug of this warm and spicy cup of perfection. Made with fresh pumpkin and real spices, DandiBlend (a herbal coffee alternative) and natural sweeteners, this is a wonderful elixir that will fuel your day, rather than detract from your health.
The Best Pumpkin Spice Latte
1/4 cup organic pumpkin puree
2 tbsp DandiBlend (or espresso)
2 tsp pumpkin spice blend*
1 tsp coconut oil
1 tsp raw unpasteurized honey
1 and 1/2 cups of boiling water (or cashew milk)
Combine all ingredients in a Vitamin and blend on high.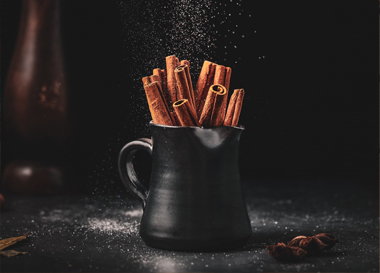 Homemade Pumpkin Spice Blend
Pumpkin spice, if you make it at home with actual spices, is an incredible mix of nutrient-dense aromatics like cinnamon, ginger, cloves and nutmeg. I make a big batch of this beautiful spice blend and add it to my Pumpkin Spice Latte, Pumpkin Spice Overnight Oats and my super yummy Spicy Oatmeal Cookies!
2 tbsp ground cinnamon
1 tbsp ground ginger
1 tsp ground tumeric
1 tsp ground allspice
1 tsp ground cloves
1 tsp ground nutmeg